2:23 pm - 11/08/2012
Meisa's twitter pics are driving Jin fans crazy with jealousy!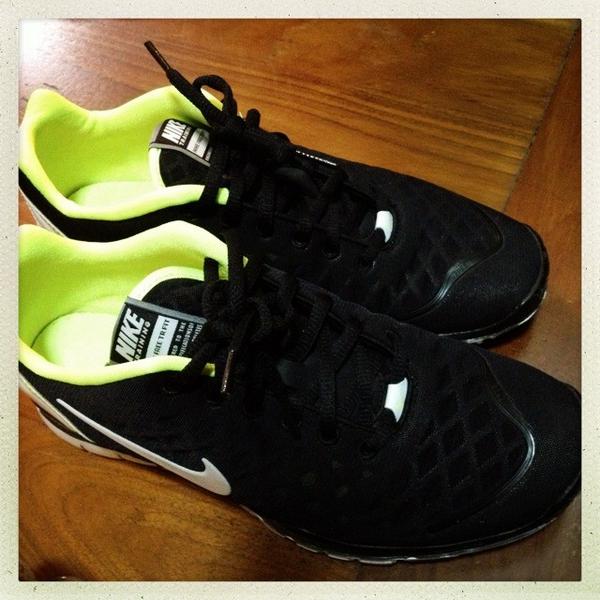 On Nov 3, Meisa tweeted for the first time since giving birth to baby daughter on Sept 23. She wrote: "Today, I went running for the first time in a long time".
Although the tweet is normal, it's the picture of her running shoes that are causing jealousy among Jin's fans. They're saying that clearly the shoe on the right and front is bigger than the other shoe and it's a man's shoe. It's Jin's shoe. Although some argue that the picture was taken at an angle that makes the right shoe appear bigger, they still think it's Jin's shoe and they don't like Meisa showing it off even though they're married. Fans said "We know they're married with a baby, she doesn't have to show off".
Some fans who are convinced the shoe is Jin's shoe have gone further and called Sweet Power, Meisa's agency to complain and the commotion has been increasing gradually with lots of complaining calls to Sweet Power.
Johnny's fans are known to overreact like that. And Jin fans are notorious for being vocal and possessive even when Jin was still in KAT-TUN. They're known to chase him around to his home and invade his privacy. When Meisa was pregnant, she took a picture of her in their bedroom and upload it on her blog. Jin fans were in an uproar claiming Meisa did it on purpose to show that they're a married couple. Jin fans were very upset (weekly magazine reporter).
Since 47 ronin promotion has been postponed until Summer of 2013, the fans are hungry for any information related to Jin. Jin and Meisa have moved to Okinawa before the birth of their baby. But recently, at the end of October, the two of them came back to Tokyo to visit friends and go to Halloween party. They have to be careful from now on with what they do. Even with the little thing, they will be criticized (reporter familiar with Johnny).
Jin and Meisa as a happily married couple have caused envy and jealousy of many fans and it will likely to continue.
Source:
cyzowoman
translated by ME
It's my first time translating for Arama. So sorry for any mistakes..
.
and this is the bedroom picture they were talking about