2:39 pm - 08/08/2013
14 year difference romance: ayano go and hashimoto ai, caught in shibuya on a date.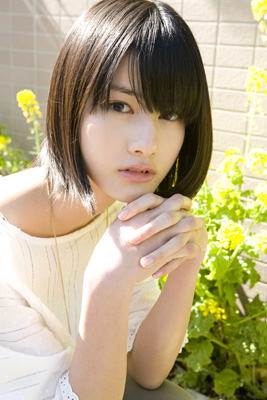 Actor, Ayano Gou (31) and Hashimoto Ai (17), starring as Adachi Yui in the drama Amachan, were caught on a date.
In Tokyo's Shibuya, according to the women's magazine, said they frequently attend a stylish cafe. Antique furniture are lined up, candles are lit at night, and jazz music is played in a relaxing atmosphere. That, which possibly could be, the perfect spot for a date. In late June, around 8pm, Ayano Gou was caught visiting the shop with a young girl, disguising herself with black colored glasses and a mask.

" The two made towards a table and when they got there, the girl took off her mask. Suddenly it was the girl that starred in " Amachan ". It was like an " Whhhaaaattt " kind of feeling (laughs) ", said a customer that happened to be there.

That night, Ayano was on a date with the NHK Serial Television drama star, Hashimoto Ai (17 years old).

Speaking of Ayano, in August of 2010, he was in the company of Toda Erika. Afterwards, things fell apart.

On the other hand, Hashimoto this year in May, was caught spending the night with fellow " Kirijima, Bukatsu Yameru tte Yo " co-star Ochiai Motoki (23 years old) by Friday. However, Hashimoto, being only 17 years old, has caused a sparked a debate on the internet, " Isn't this a violation of the age of consent law? (TN: Age of Consent is 18 in Japan) ". Not only that, at their date in the cafe, there's been suspicions of her drinking at the bar (TN: Legal drinking age is 20).

" It was causing quite a problem, and the agency was against the relationship, so it seemed like the two had broken up. ", according to someone in the industry.

Both Ayano and Hashimoto have this mutual, " Free " attitude. When it comes to it, it makes sense they'd be friendly. Those who had watched the date there spoke about it.

" The two of them were really close and had ordered a rice plate. When the music had stopped, I heard Ayano call the girl, " Ai-chin ". While they were eating, the two were always smiling. I got that feeling that the two were really a couple ", said the customer who was there.

When Hashimoto's agency was asked, the responded with, " Hashimoto was only eating dinner with a senpai of the entertainment world. "

Though, its to say that this is Ayano with a really intimately related person in the industry.

" The two are dating. It's like two mutual aquaintainces getting to know each other. They're not focused on the 14 year old age difference, this is strictly love. "

* Josei Seven 2013, August 22nd - 29th issue 
※女性セブン2013年8月22・29日号

source my tv, and here
apologize in advance for any translation errors.

only posting this cause ew. she's like 17 years old and he's a 31 year old man. can't you put your dick in something legal? and seriously, as a teacher in this country, 17 year old girls are second years in high school. like. no. i can't even fathom. judging all the way.