3:24 pm - 04/26/2011
Godly Flawless Hikawa Kiyoshi to release new album
The Enka Prince is set to release a new album, titled 演歌名曲コレクション14~あの娘と野菊と渡し舟~ (Enka Meikyoku Collection 14 ~Ano ko to Nogiku to Watashibune~) on June 1st. An A type and B type will be released.
A type limited edition:
B type: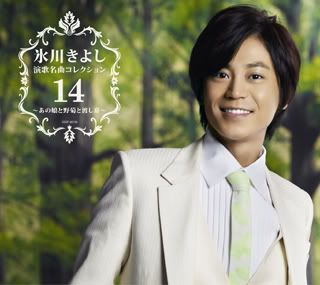 The track listing will consist of 12 songs; 6 original songs and 6 covers.
Originals:
あの娘と野菊と渡し舟 (Ano ko to Nogiku to Watashibune)
きよしの銭形平次 (Kiyoshi no Zenigata heiji)
海沿いのふるさと (Umizoi no Furusato)
今夜も片思い (Konya mo Kataomoi)
望郷しぶき (Boukyou shibuki)
なごりの波止場 (Nagori no Hatoba)
Covers:
お月さん今晩は(藤島桓夫)(Otsukisan konbanwa, by Fujishima Takeo)
黒百合の歌(織井茂子) (Kuroyuri no Uta, by Orii Shigeko)
東京五輪音頭(三波春夫)(Toukyou Gorin Ondo, by Minami Haruo)
九段の母(二葉百合子)(Kudan no Haha, by Futaba Yuriko)
青春の城下町(梶光夫)(Seishun no Jyoukamachi, by Kaji Mitsuo)
ラブユー東京(ロス・プリモス)(Love you Tokyo, by Los Primos)
The A type will also come with a DVD featuring the PV for "Yoake no Jyuujiro" and each type will feature a different photo/lyrics booklet.
Already ordered my A type! Flawless, godly, better than your faves, etc.