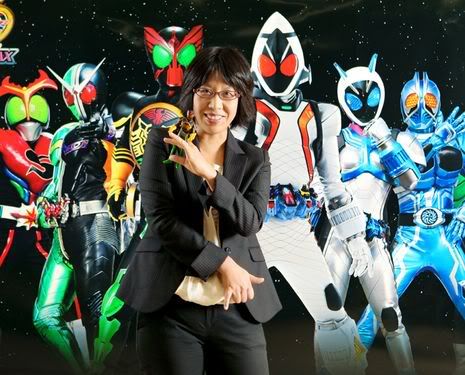 By MANA TAKAHASHI / Staff Writer

Amid the machismo that has characterized a popular superhero TV series, a woman producer has helped bring new popularity to the Kamen Rider series by injecting a feminine touch.

Naomi Takebe, 44, a producer at the television planning and production department of leading film studio Toei Co., has influenced everything from the selection of casts to what the characters wear.

She has discovered promising--and good-looking--young male actors for the Kamen Rider, or Masked Rider, series who have captivated the hearts of not only children but also their mothers and young female fans.

In late November, Takebe was in a Tokyo studio for a fitting session for a new installment.

"The shirt underneath may be a little too low-key," she told an actor dressed in a black jacket with the Kamen Rider logo. She went around and around with the director and wardrobe as they tried to work out the sizes of the clothes and logo, the shape of the collar and other details, until she was satisfied.

Takebe has served as producer of the Toei-produced Kamen Rider series aired on TV Asahi Corp. and its affiliated broadcasters.

Of the 13 installments in the series rebooted in 2000, she has worked on nine including "Kamen Rider OOO" (pronounced Ohs) that aired for one year from September 2010.

In addition to working on plots with the writers, the producer is in charge of casting and making arrangements for location scouting and the scheduling of filming.

The superhero series in recent years are completely different from their previous installments aired between the 1970s and 1990s, which are characterized by being boorish and masculine.

Jun Kaname, Hiro Mizushima, Takeru Sato and many others have earned stardom after winning starring roles in the series. Naturally, the show has attracted attention from young women.

Takebe discovered the unknown actors through auditions.

Quickly, she became the creator of a boom of sorts surrounding so-called "ikemen" rider or good-looking riders.

"Kamen Rider Ryuki," or "Kamen Rider: Dragon Knight" in the United States, became the definitive series following its release in 2002.

While Takebe was working on the show, she came up with an idea to hold talk shows featuring Kamen Rider actors and publish photo books featuring them.

Where others were relatively cool to the idea, Takebe single-handedly worked on everything including preparing a script and securing venues.

When the actors from the show appeared on stage, wild cheers erupted from the audience.

"What is this response?" a surprised Takebe recalls thinking when she saw the audience's fervor.

While such events were usually crowded with children and their fathers in the past, this time things were different. Women, including young ones, and those with their children, packed the audience.

The photo book went through several printing runs to sell 25,000 copies. Women's magazines started scrambling for interviews.

Until then, the superhero series had been looked down on as merely a "children's program."

Talent agencies had shied away from the show, saying that the acting of their clients would be affected.

But success changed everything. Takebe is now asked to come to auditions organized by talent agencies and magazines trying to promote their new faces.

Currently, the series has even garnered a reputation as a sure route to success for aspiring actors. Takebe has groomed 50 "heroes" who have since established their names in the showbiz world after starring in the TV series and movie adaptations.

The producer has always felt considerable pressure from viewer ratings and sales of related toys such as the rider's belt.

There was an installment that did not produce satisfactory results, although Takebe kept an uncompromising attitude on its story and character settings to keep the quality high.

However, a toy belt modeled after the Kamen Rider OOO's belt, with which the protagonist transforms into the superhero, was more popular than she expected. At least 750,000 units were sold, making the Kamen Rider belt the top-selling toy in recent years.

"I don't know whether (an installment) would be a hit or not until it airs," Takebe said. "I try not to worry more than necessary because the staff members and I worked hard to make it believing that 'this is it.' "

As a child, Takebe loved "Kamen Rider V3" and "Himitsu Sentai Goranger," which features a five-member team of masked superheroes, and paid no notice to animated shows for girls.

While she attended junior and senior high school, she wrote scripts for school plays. Takebe also took classes at a scriptwriting school when she was in college.

Takebe wrote a 10-page fan letter to a scriptwriter of a police drama series and became a part-time assistant.

Before she graduated from university, Takebe asked the writer to hire her as an apprentice. But she had to give up on the idea because the writer said he did not accept female apprentices.

After she joined Toei, Takebe was assigned to the sales department in charge of merchandising rights. But because she wanted to make superhero shows, she requested a transfer to her current department. Her wish was granted two years later.

Takebe gave birth to a girl 14 years ago and took child-rearing leave for 10 months. It was solitary work as she had to come face to face with her baby, who was too young to speak.

She began to feel that she wanted to make shows that mothers could enjoy.

But when Takebe returned to work, her boss suggested that she give up her job as a producer because it would be too much to handle in addition to raising a child.

There was no way she would give up her job, so Takebe negotiated with a senior colleague to have them work together.

Nearly 200 people from the production team and corporate sponsors are involved in a "Kamen Rider" installment.

Takebe can't help but always think of how she should lead the project in her own way. And when she can't find the right answer, she remembers advice from her senior colleague: Being a producer is to "serve tea" for a professional lifetime.

Because it is the producer's job to create a comfortable work environment for the staff members, she places emphasis on ideas from the director, the writer and everyone else.

She feels that they won't be able to get something more out of the show if the producer excessively expresses her own views.

When Takebe is asked what she thinks is the charm of superheroes, she gives a straightforward reply.

"It's the sense of responsibility that assures they won't run away when they are called to fight," she said adding, "And yet they won't say so in words."

By MANA TAKAHASHI / Staff Write

Source: asahi shimbun

So, do you guys yearn to go back to the time when masculine riders ruled, or are you guys happy with the current 'ikemen' riders?