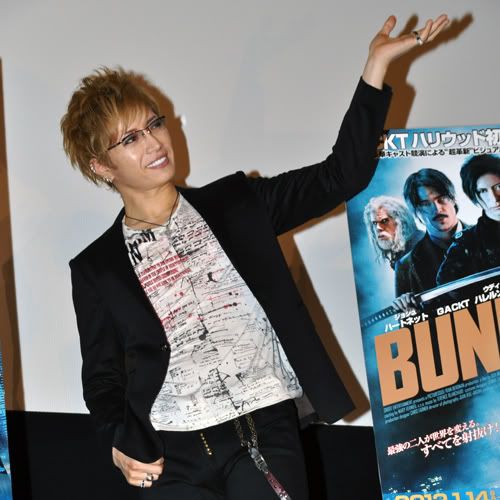 On January 14th, GACKT's Hollywood debut movie "BUNRAKU" was released in Japan. Despite his busy schedule, GACKT appeared for a stage greeting to promote the movie.

"BUNRAKU" is a martial-arts action movie directed by Guy Moshe. GACKT plays a Samurai,"Yoshi", who becomes partners with a drifter played by Josh Hartnett.

During the stage greeting, GACKT revealed how rough the filming was. According to GACKT, he fainted, hitting his head during an action scene with Josh. He was then transferred to the hospital by ambulance. Not only fainting, he also had an extremely high fever, and broke his tooth.

GACKT said, "In my whole life, I've never thought that I could not accomplish something, but during the filming, I had a feeling that 'I might give up on this' for the first time." He also said, "The expectation of the directer was quite big, including toward my action skills, so I wanted to meet the expectation, and wanted to make a great work. Thus, I decided to do things as best as I could. To be honest, I was glad I did not get injured anything worse than those."

When asked if there is any plan to make an appearance on another Hollywood movie, GACKT answered, "Hmm…I can't tell exactly yet, but if my schedule matches and as long as it's interesting, I would like to appear on any movie not only Hollywood movies, but also Japanese movies. I'm sure I would be able to show something interesting to the fans." About the character he would like to play, "I've always thought that I wanted to express insanity, but comedy might be interesting too. Recently, I'm also interested in Yankee movies as well, so please look forward."

"BUNRAKU" will be shown for a limited time until on the 27th.

Bushido sauce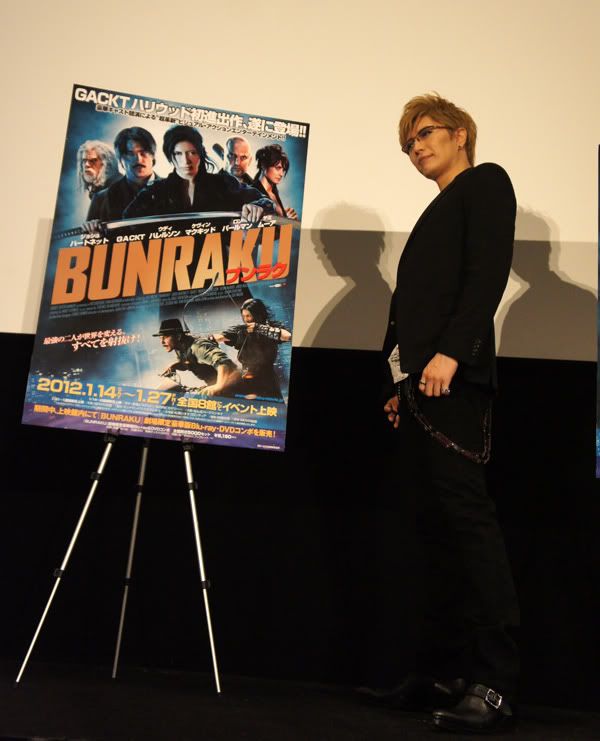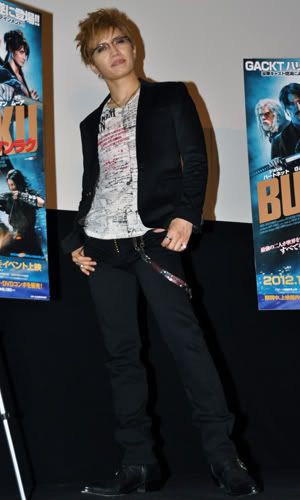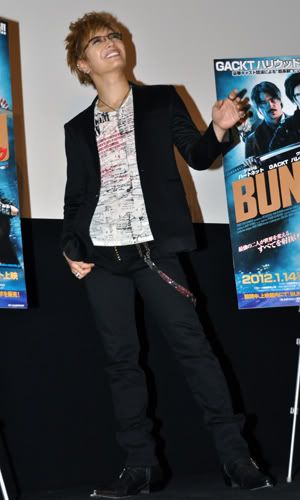 And being the IRL troll he is he went there in this shirt: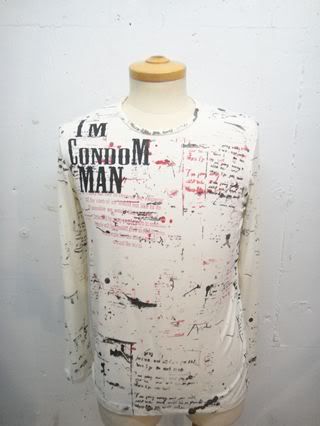 The original story from his blog during filming in 2008 said Josh Hartnett actually dropped him on his head while filming a fighting scene, causing him to pass out.