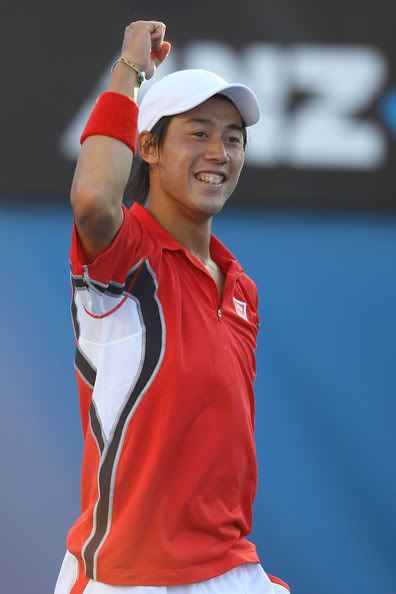 By Greg Stutchbury
MELBOURNE, Jan 23 (Reuters) - Kei Nishikori blazed a trail for Asian men's tennis in the modern era on Monday when he became the first Japanese to reach the quarter-finals of the Australian Open in 80 years.
Nishikori stunned French sixth seed Jo-Wilfried Tsonga 2-6 6-2 6-1 3-6 6-3 to emulate countrymen Ryosuki Nunoi and Jiro Satoh, who made the last eight in 1932, and now faces Andy Murray for a place in the semi-finals.
"Hopefully I can be like Li Na for the men," the 22-year-old said with a grin in reference to China's Li, who became Asia's first grand slam singles winner last year at the French Open.
"Honestly there's a lot of good players in Asia and I am happy to get to the top from Asia," added the 24th seed.
Nishikori left home at 13 to train at the Bolletierri Academy in Florida and after winning his first title at Delray Beach in 2008 has moved up the rankings to number 25 in the world and was seeded for the first time at Melbourne Park.
He is a celebrity in Japan, unable to walk around the streets freely in Tokyo without being approached by fans.
After beating Tsonga, he hoped it would provide further impetus to tennis in his country.
"A lot of people congratulate me," he added. "They always email me after the matches. Hopefully people, especially kids, (will) start playing tennis.
"But first of all I have to play well and I have to give them good news. If that helps Japan, I'm really happy."
Nishikori was visibly exhausted after his three hour, 25 minute match with France's Julien Benneteau on Saturday, finding it hard to climb the stairs.
But the 22-year-old shrugged off the fatigue and summoned the strength to chase down everything the powerful Tsonga threw at him on Monday.
"When you have a guy in front of you who returns everything, even when you serve 215 (kph), it puts a lot of pressure (on you)," Tsonga said.
"It's tough to play against him because he runs a lot and everything's coming back."
Nishikori is also the first Japanese man to reach a grand slam quarter-final since Shuzo Matsuoka, who has emailed him after each match, reached that stage at Wimbledon in 1995.
"This is the first (grand slam) quarter-final for me. (My) best result was the 2008 U.S. Open round of 16 (but) that was a couple years ago," said Nishikori. "So I feel I'm stepping up."
Murray, who knocked out the only other Asian left in the men's draw when Kazakh Mikhail Kukushkin retired with an injury, said the Japanese would be a dangerous opponent.
"Kei is playing really, really well," said the fourth-seeded Briton.
"I've practiced with him a few times. He's very good. You know, very deceptive. For somebody that's not the tallest guy, he creates a lot of power from the back of the court.
"He deals with pace well. He can slice. He moves well. He was hitting a lot of winners out there and was dictating all the points from the back of the court which is difficult against someone like Tsonga."


Source: Yahoo Sports

I was really surprised when I watched the match today. Tsonga is a strong man, but Nishikori was amazing, and I was really happy when he won. I feel like rooting for him for the next matches now ^^
I wonder if he'll inspire Konomi-sensei for The Prince of Tennis, if he hasn't already xD