2:32 pm - 03/04/2012
Matsuda Shota is falling in love with Ashida Mana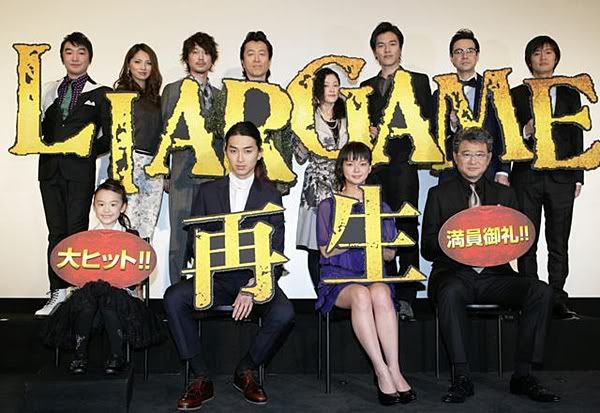 The movie "Liar Game -Saisei-" (-Reborn-), starring Matsuda Shota and Tabe Mikako, opened in theaters on March 3rd. The cast of the movie attended a stage greeting in Tokyo to celebrate its opening day.
Matsuda has been playing the role of the protagonist 'Akiyama' since the drama adaptation in 2007. He commented, "So far the genius Akiyama always was able to keep this composed and triumphant look on his face, but this time he's reaching his limit. Nevertheless I still tried to keep his composed expressions, which I hope will be reflected on the screen."
Child actress Ashida Mana is going to make her first appearance in the "Liar Game" series. The subtitle of the movie is "Reborn" and she was asked, what or who she'd like to become if she was reborn. "If I was born again," she exchanged glances with Matsuda, "I'd like to become Akiyama. He's so cool and so smart!"
Matsuda was very charmed by her glance and kindly thanked her.
"Wow," he replied, "I'm really falling in love with her."

Takahashi George interrupted the two, "This is wrong! Look at the age difference! The age difference! 7 and 26? You can't do that!" However, Matsuda raised his finger and pointed out that Takahashi's own wife, Mifune Mika, is 24 years younger than him, upon which he immediately became silent again.
Later, Takahashi once again surprised everyone and caused Tabe Mikako to blush, when he revealed that she looks exactly like his first love from junior high school.
The audience enjoyed the interaction between the cast on stage and thanked them with applause and laughter.
"Liar Game -Saisei-" is the second "Liar Game" movie after "Liar Game: The Final Stage" (2010), which grossed 2,360,000,000 Yen (28.84 million USD). It will feature one of the most popular games from the manga, the musical chairs game.
The stage greeting was also attended by Hamada Mari, Kaname Jun, Arai Hirofumi, Funakoshi Eiichiro, Nonami Maho, Suzuki Kosuke, and director Matsuyama Hiroaki.
Source
Matsuda Shota deserves more love