On July 8th at Tokyo Bigsite, AKB48 held a drawing for group placements for upcoming 3rd Janken tournament which will decide Senbatsu members for AKB's 29th single.
All 86 members who will participate the tournament drew lots.
Watanabe Mayu
(18), who won 2nd spot in the election is seeded for 1st round and will join the tournament from the 2nd round. Besides, her opponent that she will face in the 2nd round already declared her withdrawal from the tournament, so
Mayu
will be selected for Senbatsu by just winning only one battle, the 3rd round. The member who declared withdrawal is
Masuda Yuka
(20). The reason for her move is because she wants to focus on her work for
Miyamoto Amon
produced musical "Whiz".

The last tournament's winner Shinoda Mariko (26) will join from the 2nd round and will face Ohya Shizuka (20), who is also in team A and also from Fukuoka, the hometown of Shinoda.
The final tournament will be held on Sep 18 at Nippon Budo-Kan.


Oshima Yuko to face the winner of the match between Kuramochi Asuka vs Kawaei Rina.
The only member who has participated in all singles of AKB as Senbatsu, Kojima Haruna will face Yamauchi Suzuran in the 1st round.


Other members who won seeds for 1st rounds includes Takahashi Minami (21), Kashiwagi Yuki (20) and Matsui Jurina (15).


The only 4 members who won Senbatsu position both in past 2 Janken tournaments are Kojima Haruna (24), Kasai Tomomi (20), Sato Sumire (18) and Maeda Ami (17)

This year's tournament has total of 65 regular members from AKB48 (not including Masuda Yuka) plus Matsui Jurina and Watanabe Miyuki, as both of them have concurrent positions in AKB48. In addition, 8 members from SKE48, 6 members from NMB48 (Shinohara Kanna, Hikawa Ayame, Kawakami Reina, Takano Yui and Kotani Riho), 3 members from HKT48 (Eto Sayaka, Moriyasu Madoka and Nakanishi Chiyori) and 1 member from AKB's KKS will join this tournament, making total of 85 members will try their luck to seize their Chance no Junban!!
source
1
,
2
.
Team A

Takahashi Minami:
"Luck is also a part of one's ability. So I want you all to look forward to (the final tournament which will be held on) September 18 at Budo-Kan. I will do my best, too."




Team K




Team B

Kashiwagi Yuki:
"All member have equal a chance in this Janken tournament, so I will try my best, too."

Team 4




Kojima Haruna, who has been Senbatsu for all AKB's past singles, says "I want to be Senbatsu (for Janken singles) for 3 years in a row!! Please let me win!!"






Shinoda Mariko (Winner in the 2nd Janken tournament), Fujie Reina (Runners-up in the 2nd Janken)



Shinoda Mariko: "Because I won the last year's tournament, I want to try my best this year, too."



Masuda Yuka:
"I will withdraw from Janken tournament. I passed the audition for a musical held a little before, and I'll start practice for the musical from August. Though I feel sorry for fans who support me, , instead, give it everything to the musical so that it will be a great success."
"W Sato" match
Sato Sumire and Sato Natsuki will face off in the 1st round.
Sato Natsuki lamented on her G+, "I did't imagine I will fight against my Oshimen Suuchan in the 1st round...."
Ohya Shizuka, who will match against Shinoda Mariko in the 1st round, and Yokoyama Yui who drew a lot of "no.48".



Oshima Yuko won a seed for the 1st round, and will face off the winner between Kuramoto Asuka and Kawaei Rina.
Watanabe Mayu
can be Senbatsu by just winning once as she won a seed and her opponent in the 2nd round is
Masuda Yuka
.
Because they are currently also members of AKB48,
Matsui Jurina
and
Watanabe Miyuki
, for the first time, joined AKB's trials for Janken tournament.
The final tournament will be held on 18th September at Nippon Budo-Kan.


source: akb48wrapup 1, 2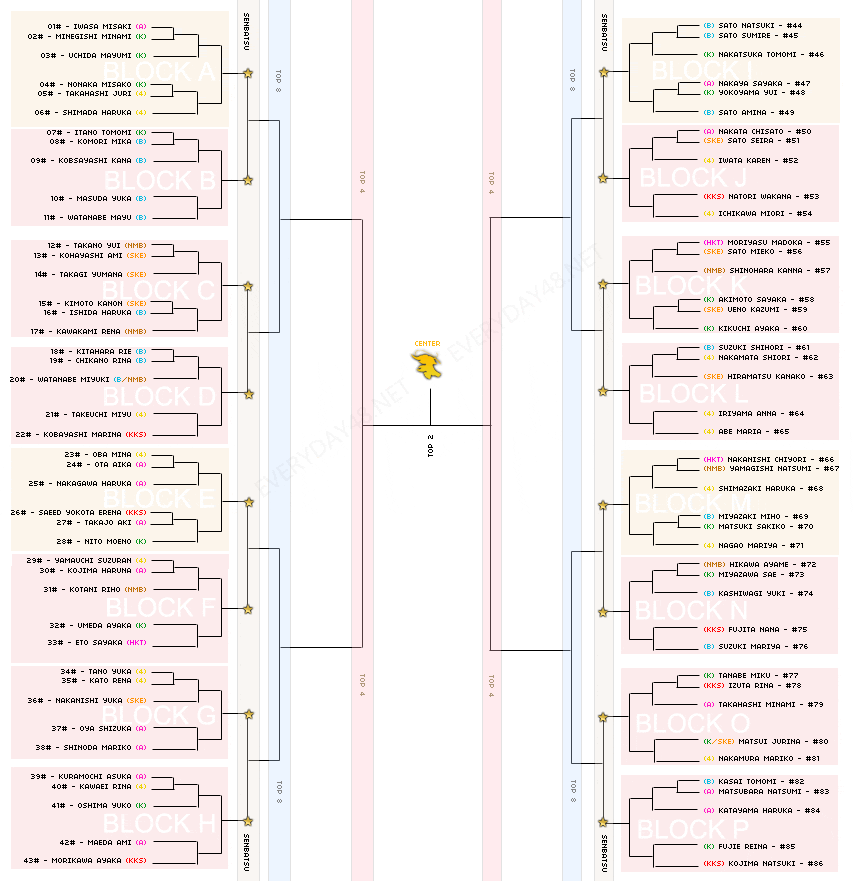 chart by Everyday48
I'm sorry if this is a mess but I tried to simplify things mashing up two articles D: