Yamashita Tomohisa will be releasing his new album "A NUDE" on September 11. He'll also be holding a nationwide tour called 'TOMOHISA YAMASHITA LIVE TOUR 2013 -A NUDE-' from October to the end of the year.

"A NUDE" is Yamashita's first album since releasing "Ero" about a year and 2 months ago. A variety of artists will be involved with the album, including AI, corin., STY, Jeff Miyahara, ☆Taku Takahashi (m-flo), Nakajin (SEKAI NO OWARI), Passpied, Maeyamada Kenichi, MIYAVI, Mori Daisuke, MONKEY MAJIK, RYOJI (Ketsumeishi), Rake, and THE LOWBROWS.

The album's lead song "Genshiteki Janai to ~Analog Love~" is composed by Kubota Toshinobu, written by Wada Makoto (TRICERATOPS), and arranged by Osawa Shinichi. It will also contain "NEXTACTION feat. Fujigaya Taisuke (Kis-My-Ft2)" and "PAri-PArA" written and composed by his unit with SMAP's Katori Shingo, The MONSTERS.

The theme of the album is "Autumn=Autumn's Nude". The "A" in the title stands for 3 things: A for Autumn, "ee" in Kansai dialect, and A for Analog. On the jacket cover, Yamashita lies atop fallen leaves, showing a different kind of "nude" from his single "SUMMER NUDE'13".

The album will be released in 3 different types: Limited Edition A, Limited Edition B, and Regular Edition. Limited Edition A will come with a DVD featuring the PV and making of "Genshiteki Janai to ~Analog Love~", Limited Edition B will come with a see-through bag, and the Regular Edition will come with "Natsu no Orion", a song written and composed by Yamashita himself.

Furthermore, Yamashita will be kicking off his nationwide tour on October 5 at Nagasaki Brick Hall for a total of 29 shows at 20 locations.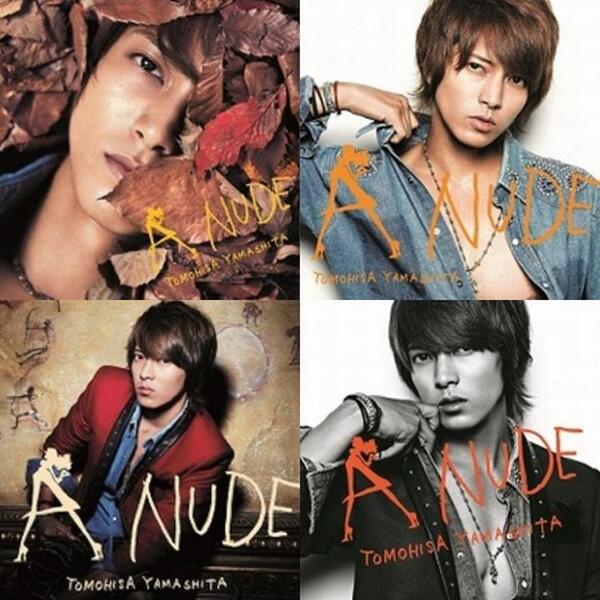 External bonus: exclusive B3-size poster

Regular edition: This edition includes an exclusive track "Natsu no Orion." Picture disc.

SING FOR YOU
怪・セラ・セラ
あの虹の向こうまで
君の風になって
パレード
EVERYBODY UP
原始的じゃナイト 〜アナログ ラブ〜
NEXTACTION feat. 藤ヶ谷太輔 (Kis-My-Ft2)
PAri-PArA
MAGIC
Stand Alone
蜃気楼
夏のオリオン

Limited edition A: This edition includes a bonus DVD with a music video for "Genshitekijya Night – Analog Love -" and its making-of.

[CD] SING FOR YOU
[CD] 怪・セラ・セラ
[CD] あの虹の向こうまで
[CD] 君の風になって
[CD] パレード
[CD] EVERYBODY UP
[CD] 原始的じゃナイト 〜アナログ ラブ〜
[CD] NEXTACTION feat. 藤ヶ谷太輔 (Kis-My-Ft2)
[CD] PAri-PArA
[CD] MAGIC
[CD] Stand Alone
[CD] 蜃気楼
[DVD] 原始的じゃナイト 〜アナログ ラブ〜 (Music Video & Making Movie)

Limited edition B: This edition includes a bonus see-through bag in a special packaging.

SING FOR YOU
怪・セラ・セラ
あの虹の向こうまで
君の風になって
パレード
EVERYBODY UP
原始的じゃナイト 〜アナログ ラブ〜
NEXTACTION feat. 藤ヶ谷太輔 (Kis-My-Ft2)
PAri-PArA
MAGIC
Stand Alone
蜃気楼

credits JE NEWS DAILY, TH

Woah Pi, this album is LOADED, with MIYAVI, SEKAI NO OWARI and all the rest