TarO&JirO are releasing their first mini album "Brothers Fight" on December 11, for Teichiku Entertainment - Imperial Records.
The PV is for the instrumental track "Snake Bite" and their signature song "Silent Siren".






TarO&JirO is a duo composed of two brothers. Their instruments are only two acoustic guitars and a kick drum, but their rock is so energetic you will doubt there are only the two of them! The big brother, TarO, entertains with his fast picked solos, while JirO with his slap brings about a bass-like sound.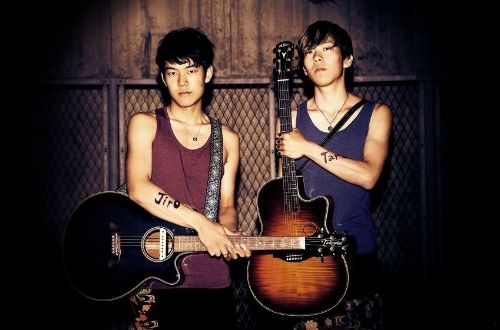 After various music experience in Japan, the two brothers moved to London in 2009, where they developed their skills and decided to play as a duo. In 2011, among other activities in France, they exhibited also at Japan Expo Sud and won the competition Guitare en Scène 2011. Notably, they were invited to Guitare en Scène 2012 as the main act, standing upon the same stage as the likes of Steve Vai, Steve Morse, and Joe Satriani.

Back to Japan, after gaining popularity at street performances, TarO&JirO participated and won the Japan selection of the unsigned band world competition Emergenza 2013. After the world final in Germany, they announced their major debut for Teichiku Entertainment - Imperial Records.




This and next month TarO&JirO are touring around Japan, but on December 7 they will perform at J-Music LAB in Jakarta, Indonesia (https://www.facebook.com/jmusiclab).

Their first mini album "Brothers Fight" is available also at Yesaasia and CDJapan.

BROTHERS FIGHT

1.Snake Bite
2.Silent Siren
3.Otona no Undokai (大人の運動会)
4.Chohatsu (挑発)
5.Brothers Fight
6.Hito ni Shinju (ヒトに真珠)
7.Nannin kuru kana, yatte kuru kana? (何人来るかな、やって来るかな?)

CDJapan
Yesasia
Amazon

TarO&JirO Links:

Official site
Teichiku official site
Facebook
Twitter
Youtube Channel